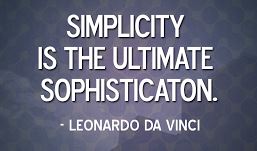 Harvard Business School is well known for its sage advice on the topic of leadership in business.
A commentary from the HBS "Working Knowledge" series caught my eye when it discussed the importance of communication in the role of leadership.  Here is an excerpt from the article I read:
"Communication is the real work of leadership," says HBS professor Nitin Nohria, who documented the importance of persuasion in his 1992 book Beyond the Hype: Rediscovering the Essence of Management.
Nohria … feels that [effective] leaders are able to distill their message, however complex it may be, to something that is accessible to those who may not share their knowledge or background.
 HBS professor Joe Badaracco agrees… "You need a talent for simplicity — for saying things in a few words. General Electric's Jack Welch is a good example. He is astonishingly articulate and able to convey complicated concepts in just a few phrases."*
There is an old and well known acronym for this approach to communication: KISS, "Keep it Short & Simple." It's true - sometimes a leadership insight is simply not very complicated. Nor does it require excessive explaination.
Leadership research proves the point: when it comes to communicating as a leader, a simple approach is more than good enough.
*Source: Harvard Business School, Working Knowledge, The Thinking That Leads, "What Makes a Good Leader," online: http://ow.ly/Vm0xb.