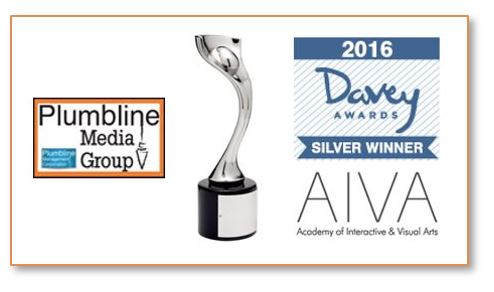 Sometimes unexpected good news surprises us – and humbles us.  That was the case last week when we learned that our team here at Plumbline Media Group was honored once again by receiving another award for excellence in video production.
About the Davey Awards:
The Davey Awards is an international creative award focused exclusively on honoring outstanding creative work from the best small agencies worldwide. The 2016 Davey Awards received nearly 4,000 entries from ad agencies, interactive agencies, production firms, in-house creative professionals, graphic designers, design firms and public relations firms.
In ancient middle-east, young David defeated the mighty Goliath with a big idea and a little rock. That is the sort of thing small agencies do every day. The Davey Awards honors the achievement of the "Creative David's" where strength comes from ideas, intelligence and out-of-the-box thinking, not a "Giant's" bankroll. Great work is about fresh ideas and exceptional execution, not the biggest budgets. The Davey levels the playing field so entrants compete with only their peers and can win the recognition they deserve.
Who is behind the Davey:
The Davey is judged and overseen by the Academy of Interactive and Visual Arts (AIVA). The AIVA is an invitation-only member-based organization of leading professionals from various disciplines of the visual arts dedicated to embracing progress and the evolving nature of traditional and interactive media. Current membership represents a "Who's Who" of acclaimed media, advertising, and marketing firms including: Code and Theory, Condé Nast, Disney, GE, Keller Crescent, Microsoft, Monster.com, MTV, Push., Publicis, Sesame Workshops, The Marketing Store, Worktank and Yahoo!, and many others.  Visit www.aiva.org for more information.
This is the second time our team has been recognized for production of The Living Free Seminar Trailer. Earlier this year, a Telly Award was also presented to our team for the same video (click here for details).
We are humbled and grateful for the honor that the Davey Award represents - and we will strive to maintain and exceed this level of production quality for the work we do for each of our clients in the years ahead.  Once again, hats off to Ryan Speier, Mike Riches and the Plumbline Media Group production team!